I have been thinking of a fun way to begin school this year. For the most part, all I have is a 10th grader. Chick-a-Dee will be busy with "school", but not the kind that I really have to plan for. A 10th grade BOY (yes, ALL boy). He would rather be tromping through the forest- hunting, whistling, trapping, spitting, working on his cabin, ANYTHING other than sit in the house and do
school.
It kind of got me thinking of what I want to accomplish and impress upon this precious son of mine in the last couple of years of his "education".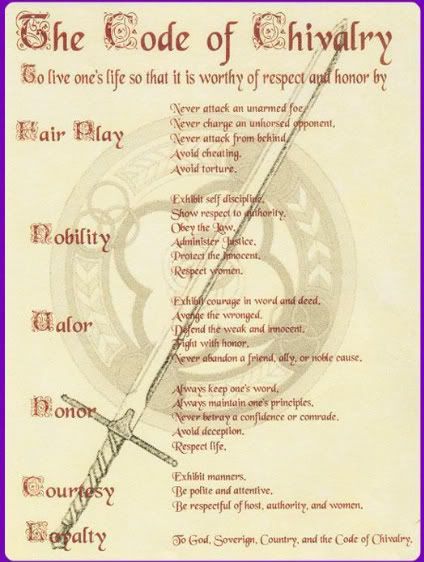 I believe that we will begin with a review of what chivalry means and how it applies in today's world. Here are a few of the words that I have found describing chivalry. I'll throw a few out and challenge you, my faithful readers, to try to define as many of the words as you can - WITHOUT looking the word up! Who knows, I might just have a little prize waiting for the person who can most closely define the most words correctly! Here are the words:
humility
largesse
nobility
faith
chastity
courtesy
integrity
prowess
justice
loyalty
defense
courage
As an example, I will define the word integrity. This is what I am looking for.
integrity -
adherence to moral and ethical principles; soundness of moral character; honesty.


Pretty steep order, heh? Give it your all-out try and see what you can come up with! Hmmmm - are you going to cheat? Do I need to post the Code of Honor????? Ha!